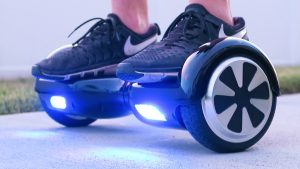 New York had one of the warmest winters in decades so, naturally, hoverboards seemed like the perfect Christmas gift; people could use these self-balancing scooters (contrary to their name they do not hover) in the streets or inside their house. However, this gift must now be packaged with precaution. Hoverboards pose a danger of bursting into flames, right under unassuming rider's feet. Videos on YouTube have shown hoverboards combusting in the middle of a mall, on a driveway, and in kitchens. Not only is this happening while people are riding it, but also when it is charging, undisturbed in the corner of a teen's bedroom. Each incident happened only a few days after being purchased. However, the most alarming part is that, despite the authentic videos, parents are still buying it for their children without doing any research.
A common feature among the aforementioned hoverboards came from unreliable sellers on Amazon, who sold the products for less than the average price ($399-$499). Most of these products contain damaged lithium-ion batteries. These batteries do not normally pose a threat because they are the primary source of energy in rechargeable electronics such as cell phones and computers. The battery is compromised of individual cells and each cell contains metal particles. The electrons travel from the anode to cathode, which happen to be made of cobalt. According to batteryuniversity.com, lithium-ion cells with cobalt cathodes will not be safe if it reaches temperatures higher than 265 degrees Fahrenheit; once the cell reaches 302 degrees Fahrenheit, it becomes thermally unstable, resulting in the release of smoke and gases.
This thermal danger warrants bans from all airports and universities. Almost all of the major airlines, including Delta and United, banned hoverboards on their flights back in December. It was a predictable decision because its tendency to catch fire is a concern to the welfare of the people. "Employee and passenger safety remains the airline's top priority, " wrote a staff writer on Delta's website, "…Poorly labeled, powerful lithium-ion batteries powering hoverboards are the issue. Delta reviewed hoverboard product specifications and found that manufacturers do not consistently provide detail about the size or power of their lithium-ion batteries… While occurrences are uncommon, these batteries can spontaneously overheat and pose a fire hazard risk." Even universities are taking these potential risks in mind. More than a handful of universities have banned students from having possession in dormitories, on-campus apartments, or on campus in general.
Half-hearted warnings such as "be careful when you ride it" may not cut it anymore. Consumers have to be meticulous when they buy popularized items by doing a fair amount of research before purchasing a product, especially over the internet.  The underlying issue to the emergence of dangerous products that have been flooding the United States is that consumers do not buy from reliable sellers and instead attempt to buy the same product at a cheaper price. The concept of buying a good quality product from a good seller, such as Swagway in this case, seems to hover over the heads of consumers, costing them a fiery price.