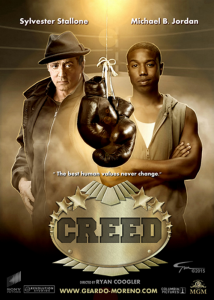 Rocky Balboa. Even though he is a fictional character, everybody knows the name. He is the main character from the legendary Rocky movies, and he is portrayed by Sylvester Stallone. There were six Rocky movies that Stallone starred in, the first one premiered in 1976, and the last one coming out in 2006.
In the first two Rocky movies, Rocky and Rocky II, Balboa's opponent is Apollo Creed. In the first movie, Creed picks Balboa at random to be his next opponent, mostly for a publicity stunt. To everyone's surprise, Balboa lost the fight in a split decision vote. Even though Creed won, he was phased by this. He wanted to prove to everyone that Balboa was a fluke, and that he was a far better fighter. When Creed initially asked him for a rematch, he declined and said that he was retiring. Then after being lead on by Creed, and being subject to financial problems, he accepts to fight him. In the last round of the fight, Balboa and Creed are both on the ground, but Balboa gets up and wins by knockout to become the world champion. In Rocky III, Creed returns to train Balboa in exchange for a big favor. That big favor was a private rematch between the two fighters. In Creed's last appearance in the Rocky series, in Rocky IV, he ends up getting killed in the ring, after Balboa reluctantly agrees to train him for the fight. Balboa decides to avenge Creed and fights the boxer who killed him.
That's where Adonis "Donnie" Creed comes in, who is played by Micheal B. Jordan. The film starts off in a youth facility because he has been dealing with anger issues and gets into many fights. That's where Mary Anne Creed comes in. Even though she is not the biological mother of Adonis, she offers to take him in. He goes on to work at a securities firm, but quits that job to pursue his dream of becoming a professional boxer. Even though he wasn't a professional, he still fought in Mexico, and had a record of 15-0. Adonis tried to train at a gym in Los Angeles, but he was turned down. Then he did the next best thing, and went to go track down Rocky Balboa. Balboa was Apollo Creed's long time friend and rival in the ring. When Adonis tracks Rocky down, he is reluctant to do it at first, because he suffers from brain trauma that was caused in the ring. Then after Adonis' begging, Rocky agrees. He trains at the gym where Rocky trained, and he scores a fight with a local fighter. That fight upstarted Adonis' career. Eventually Adonis made his way to a championship match against "Pretty" Ricky Conlan, who is portrayed by professional boxer Tony Bellew. This fight will either make or break Creed, and will seal his fate as a boxer.
There's also an emotional side to the movie as Adonis' character sparks up a love interest with his neighbor Bianca, who is an up and coming singer. Bianca is played by Tessa Thompson. Also, another thing that plays out in the movie is Balboa's health, and these will be two story lines that will play out for future movies to come.
So if you're a fan of sports movies with amazing backstories, I recommend that you see this movie. Because in my opinion, this movie was the perfect mixture of both, and you don't even have to see any of the previous Rocky movies to understand and enjoy this one.