It's likely that you were one of the millions of people to turn on your TV last Sunday and watch the Jets take on the Giants.  If you were, lucky you, because it was a good one, as the Jets defeated the Giants in overtime with a final score of 23-20.  However, the implications on the rest of the season went far beyond the scoreboard for the two teams.
As for the Jets, hopes for their first Postseason appearance since Mark Sanchez was heading the offense and Rex Ryan was coaching in the AFC Conference Championship game of 2010 are high, as they should be.  The season this year looks eerily similar to 2010.  The Jets seem to be heating up at the right time, and at this rate, it looks like Gang Green is going to squeak in as a 5 or 6 seed in the AFC.  Having won two straight, the Jets remaining schedule is not too difficult, with games against the 3-9 Tit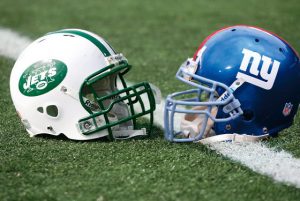 ans, 3-8 Cowboys, and finishing the season off with two AFC East match-ups, against the Patriots, and a crucial game against the Bills.  As of right now, the Jets are the 6 seed with a 7-5 record. With an easy schedule remaining and if they continue playing at a high level as they have for the past two weeks, the Jets will be playing into mid-January.
As for the Giants, fans still have a reason to be hopeful.  Despite losing consecutive games, they still have a legitimate shot at the playoffs.  Unlike the Jets, they are playing very poor football.  With a defense that has barely any ability to stop the run, the Giants rank dead last in pass defense as well.  The loss to the Jets was also very deflating, and they need to turn it around sooner than later. Depending on the various division games yet to play out, if the pieces fall into places the Giants may be able to capture a division title. However, if the Giants don't make any improvements, they are surely going to miss out on the playoffs for the fourth consecutive year; and you can have no doubt some administrative changes will be made for the G-men.