In English, the Japanese term "Gaman (我慢)" means "enduring the seemingly unbearable with patience and dignity." This term overlays and propels the plot, and is the inspiration behind a moving song, in Broadway's newest musical, Allegiance. The show is based off of the personal accounts of actor George Takei during the Japanese-American internment of World War II. Takei, who also stars in the show, is joined by Broadway veterans Lea Salonga and Telly Leung.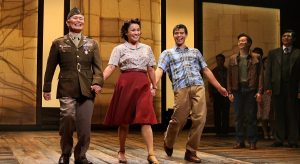 Although one may assume the show is somber from its premise, that could not be farther from the truth. Takei's character, "Ojii-San," was the main comic relief, delighting the audience with silly card tricks and his optimistic persona. Full of uplifting messages, swinging songs, and upbeat dance numbers, Allegiance leaves the audience hopeful and elated. This, however, is not necessarily a positive. The show might have better achieved its goal of enlightening the public about the horrors of the Japanese internment by adapting the show to a haunting play as opposed to a bittersweet musical. Nevertheless, the individual performances, such as Lea Salonga's vocals, helped make Allegiance a show to remember.
The journey to put Allegiance on the Broadway stage has been a long and tedious one. Over the course of seven years, the show itself has changed dramatically; this has been the most challenging aspect of bringing the show to life, according to Leung.
"Lea [Salonga], who plays my sister, was originally my Japanese teacher," said Leung, "and then my sister-in-law." He emphasized how these constant changes are what made putting on the production so difficult. However, this story, although dynamic, resonated with many members of the cast. Greg Watanabe, who is making is Broadway debut in Allegiance, has family members who were forced into the same internment camp that the show is set in. This, he said, is what encouraged him to be a part of this show.
The story of Allegiance is not only a deeply personal story, but a deeply important story. The internment of Japanese-Americans during WWII is an easily forgotten and lesser-known event that is now being brought to the public eye. Although saddening, the musical's story is also inspiring, reminding those facing adversity to "Hold your head high, carry on, Gaman."