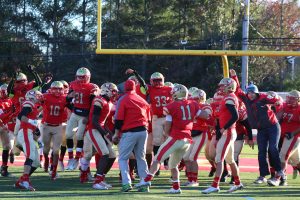 History prevails as Hills West is now 4-0, including playoffs against West Islip in three years.  Led by a ferocious defense West achieved the win 21-7.
This was a low scoring game in the beginning as points were hard to come by. A fumble late in the first quarter by Running Back  Alexander Filacouris set up good field position for the Lions. However they weren't able to convert on the opportunity due to some stellar defense that caused multiple fourth down stops. Islip dominated time of possession, but weren't able to find the goal line. The score remained 0-0 until late in the second quarter when Lions quarterback Jake Guercio threw an interception with a little less than two minutes left in the half. On the play directly following the interception, Hills West quarterback Anthony Lucarelli threw a picture perfect ball to his number one wide receiver Cameron Jordan for a 78 yard touchdown. He was able to gain a step on the defender and break the tackle to end the scoreless tie. Guercio could not get much going in the passing game, but his legs didn't let him down. With 4.6 seconds left Guercio rushed for a touchdown setting the teams even in the half. He ended up with 140 yards on 30 carries.
On the first possession of the second half, Lucarelli once again found Jordan for an 8 yard touchdown halfway through the third quarter to put the colts 14-7. He ended the game with three catches for 102 yards and a pair of touchdowns. When asked about his connection with his QB, Cam simply explained "When he throws it in my area I feel I can get it" he said. He also spoke about last year's Suffolk County Champion Playoff loss, and how they were able to bounce back saying "The returning Juniors and Seinors knew what it took to get the job done" he responded.
A 19 yard rushing touchdown by Lucarelli added to the colts lead making it 21-7. He finished 4-7 for 118 yards along with two touchdowns and added a rushing one as well. However, this game however wasn't all smooth for the colts. West Islip orchestrated two lengthy drives that put them knocking on the end zone door. The Hills West defense, who were playing stingy all game, wouldn't allow a score. First with the ball at their own 6 yard line, Dan Nam Kung sacked Guerico on a 4th and goal situation to escape unscathed. Later in the 4th quarter the Lions again faced fourth down from their opponents 7 yard-Line and were denied to ice the game for the Colts.
The Colts will hope to continue their run in the Suffolk County Championship against New Field with not only redemption on the line, but a chance to play in the Long Island championship last won by the Colts in 2009