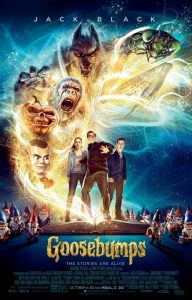 As Halloween quickly approaches, people travel to their favorite stores searching for another costume to wear to go trick-or-treating, Halloween parties, school, work, and other activities. Parents buy candy and freely give it out to eager children, as they set up decorations of ghosts and skeletons on their front porches. Teenagers use the holiday as an excuse to hang out with each other, going to parties or haunted houses, or watching movies.
For those who would prefer to enjoy a Halloween film with their pals, the 2015 production of Goosebumps just came out about two weeks ago. The PG film, based on R.L. Stine's children's book series Goosebumps, not only earned itself a sequel before this movie hit theaters, but currently has a box office of $55.4 million, hoping to overcome its close budget of $58 million. The movie stars long-time actor Jack Black, along with Dylan Minnette and Odeya Rush as Zach Cooper and Hannah Stine.
Goosebumps begins with young Zach Cooper and his mother Gale (Amy Ryan), who move from New York to the unreal Madison, Delaware. Their new neighbors, Mr. Shivers (Jack Black) and his daughter Hannah, get into a fight that could be heard from the Cooper house, but he claims to the police that the noise was from a movie. Then Zach tricks Mr. Shivers into going to the police station for questioning, while he and his friend Champ (Ryan Lee) check on Hannah.
When the kids are there, they find a book called The Abominable Snowman of Pasadena, and are surprised when a Yeti jumps out of the pages. Mr. Shivers returns, putting the Yeti back in the novel, and tells them that he is really R.L. Stine, who wrote the stories as a child. Soon another monster, Slappy, exits Night of the Living Dummy and sets the book on fire, so that he can't go back into the world of literature. Then he releases the rest of mythical creatures, controlling them to get revenge on Stine, who never let them out of his books.
On popular website Rotten Tomatoes, which gives movie reviews, Goosebumps got a 74% audience score and a 73% vote by actual movie critics. The film also received 3.5 of 5 stars.
Film Critic Bilge Ebiri from Vulture.com described the movie by saying: "The conceit behind Goosebumps — books/games/movies open up and the beasts inside them wreak havoc on our world — isn't exactly new, and it could easily become tiresome or cloying. But the movie never pauses long enough to let us get bored or annoyed. It has the feel of a story being spun before our very eyes — fast, funny, and, yes, even frightening."
For those who enjoy the excitement, suspense and special effects of spooky movies that normal festivities don't offer, then this a great new movie to watch in addition to classic Halloween films like Halloween Town.