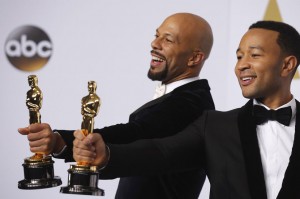 The 87th Oscars was one for the memory books. Hosted by Neal Patrick Harris, the iconic star of the sitcom "How I Met Your Mother," was extremely funny and cracked jokes throughout the ceremony.  The night kicked off with red carpet stars, such as Lupita Nyong'o and Jennifer Lopez, who rocked designer-made dresses and obscenely expensive jewels.  However, the red carpet also witnessed some not-so-great fashion statements, including Lady Gaga's less than practical red gloves.
It was only when the award ceremony  began that the real show started.   Movies such as "American Sniper," "Birdman," 'Whiplash," "Boyhood," "The Imitation Game," "The Theory of Everything," "Selma" and "The Grand Budapest Hotel" competed for Best Picture.  Ultimately, the award went to "Birdman," which stars Michael Keaton as a washed-up, super-hero playing Hollywood actor who mounts a comeback on Broadway by creating a musical for his alter-ego, Birdman.  Winning Best Actor was Eddie Redmayne, who played astrophysicist Stephen Hawking in "The Theory of Everything", a biopic where Hawking's life is portrayed  from his college years through his diagnosis with ALS, which leads to him becoming immobilized in a wheelchair. Taking home the award for Best Actress was Julianne Moore for her role in "Still Alice," the story of a Columbia linguistics professor diagnosed with early onset Alzheimer's disease.  (Apparently, the Academy voters are drawn to actors who accurately portray people who develop deteriorating medical conditions.)  In other categories, Best Supporting Actor was won by J.K. Simmons in "Whiplash", and "Best Supporting Actress" was won by Patricia Arquette in 'Boyhood."
The 2015 Oscars were particularly memorable due to the presence of Taya Kyle, the widow of "American Sniper" Chris Kyle, who attended the awards as a testament to her late husband.  Other memorable highlights included host Harris proudly parading on stage in his "tighty whities" (a tribute to a scene from "Birdman") and Lady Gaga of all people (minus the offensive gloves) nicely singing a medley of tunes from the "The Song of Music."   One can only wonder what next year's 88th Academy Awards will have in store.