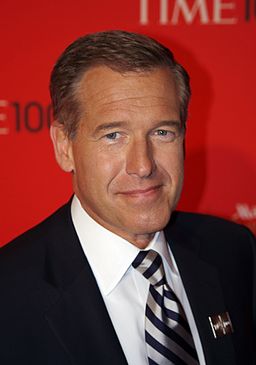 Feelings of animosity erupted when news anchor, Brian Williams, made a false comment regarding his reports during the Iraq war in 2003. He said, "The helicopter we were traveling in was forced down after being hit by an RPG.", during a segment of Nightly News in January.  He repeatedly talked about this incident previously, on both the NBC Nightly News and The Letterman Show, but made subtle changes each time. Recently, soldiers who were eyewitnesses to the attack came forward to point out discrepancies in his account. The pilot of the helicopter that took the RPG fire posted on Facebook that Williams and his crew didn't appear until an hour later. At first, viewers of the Nightly News were incredulous. How could Brian Williams, one of the most trusted news anchors in America, have lied? Days later their fears of fabrication were confirmed when he apologized to the public for "misremembering" that he was in the helicopter behind the one under fire.
NBC is currently expanding their investigation into his exaggerated story and suspended Williams for six months without pay, temporarily replacing him with Dateline host, Lester Holt. In a written statement, they conveyed their belief that "This was wrong and completely inappropriate for someone in Brian's position" and "As managing editor and anchor of Nightly News, Brian has a responsibility to be truthful and to uphold the high standards of the news division at all times". It is unclear whether Williams will return to his post after his suspension due to the damage to his journalistic reputation. NBC is pursuing other replacement options because they are worried Holt cannot sustain the high amount of viewers that Williams had. Ratings plummeted by double digits once his suspension was announced. Williams even cancelled his appearance on The Letterman Show for February 12. Despite providing an adequate amount of laughs rapping in segments of The Tonight Show, his popularity wasn't enough to secure his spot after this scandal.
However, popularity can sometimes be a double-edged sword. In this case, it is. Hundreds of memes flooded Twitter with the hashtag #BrianWilliamsMisremembers after his apology. Some show him with historic figures like Amelia Earhart and how he "remembers" these situations that he was never a part of. Others, however, attempted to defend Williams by tweeting how Fox News exaggerates their stories as well. Either way, these memes brought more awareness to his embellishments, causing more attention to shift over to him.
Over the years, Brian Williams has become the face of NBC Nightly News. He first joined the program in 2004 and received the Peabody Award for his coverage of Hurricane Katrina. In 2006, Time named him as one of the 100 most influential people in the world. Unfortunately, one lie destroyed his credentials. The public is now questioning the accuracy of his other stories like the demolition of the Berlin Wall, pushing NBC to investigate further on whether he was actually there to see it happen. He was a trusted journalist, making it even more shocking to his audience. A storm of mistrust is brewing over this incident.