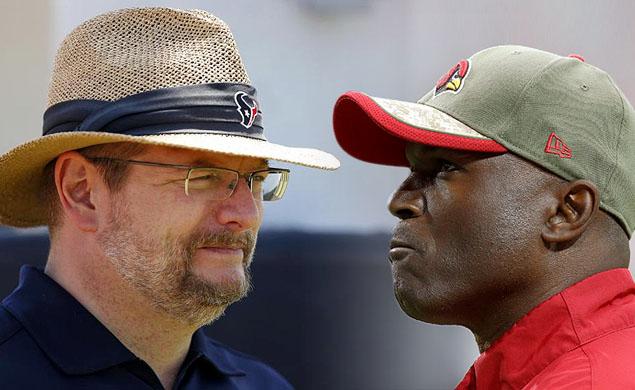 The wait is over. A little over two weeks ago the Jets owner Woody Johnson made the decision to fire both his General Manager, John Idzik and his Head Coach, Rex Ryan. Now after two hard working weeks involving numerous interviews with endless candidates Johnson has finally hired the two men he believes can lead the NY Jets to the promise land. Woody Johnson with the help of consultants, Charlie Casserly and Ron Wolf, both of whom have had great success in their NFL head coaching and front office careers has hired Mike Maccagnan to be the Jets General Manager and Todd Bowels to be the Head Coach.
Maccagnan who formerly worked within the Houston Texans organization for over 14 years was most recently their lead director of College scouting, he was given this position in 2011. One of the bigger complaints about former GM John Idzik was that he failed to bring in players through the draft who helped the team, this is why bringing in Maccagnan who's specialty is College scouting is a very popular pick among the Jets brass and fan base.
Todd Bowels is considered by many people around the NFL to be a defensive genius, much like former head coach Rex Ryan. The fact that the new head coach is similar in many ways to the one was just fired after a fourth consecutive non-winning season in NY may be considered a negative thing. However, the rosters strength comes on the defensive side of the football, this means that Bowels now has a roster that he will be able to use to his advantage. Bowels was the defensive coordinator of the Arizona Cardinals for the last two seasons, before that he had jobs with the Dolphins, Eagles and Jets almost 14 years ago. The Cardinals have had a top 5 ranked Defense in the NFL for the last two years, much of this can be credited to Bowels and his defensive genius.
NY Jets training camp opens in July and the season kicks off in September, clearly there is a lot of time before these two moves can be judged even slightly. Woody Johnson is hoping that these are the two men who will be able to bring them to a level of success they have not reached since 1969 when the Joe Namath led Jets beat the Baltimore Colts in the Super Bowl. Only time will tell if this will turn out to be the truth.