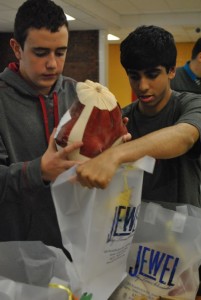 A controversial topic for, not only high school students, but all students is whether or not community service should be a requirement for graduation. At Hills West, community service is not a requirement- unless you choose to be a part of the school's National Honors Society, Music Honors Society, Art Honor Society, or Key Club. The issue is then controversial because students want to know, at what point did community service become a requirement for being a good student or even a good musician?
It didn't. Community service has absolutely nothing to do with that. What it has to do with is written out right in the name. Its purpose is merely to get students involved in helping their communities. Whether or not the community service is voluntary is irrelevant. If students do not want to do participate, then joining those school groups that require it is something that is voluntary. "If service is being performed and well, I don't think it matters the original motivation, even if that motivation be putting hours on a sheet," said Hills West senior Stephen Imburgia, who is an active member of the school's National and Art Honor Societies.
While some students may be tempted to lie about their hours, or maneuver their way into doing as little work as possible during those hours, they're not just hurting themselves, but their communities. To promise something and then not commit fully can be considered worse than never promising that thing at all. Helping out at a soup kitchen, a homeless shelter, or even a nursing home can prove to be an unbelievably rewarding experience on both ends. Students may gain life experience or meet people that will change their outlook on the world forever. But even if they don't, so what? They did a good deed.
Community service should definitely be an activity that students participate in willingly, and at Hills West, it is. Students are not forced to join groups that require community service. When they do though, they make a difference, whether it is for one person or a hundred people. Service can be something small like collecting tickets for school plays, like the kids in Tri-M do. The only real requirement is that students jump out of their self-serving minds for a moment, and do something kind for someone else. Who knows? Maybe it will help them as well.