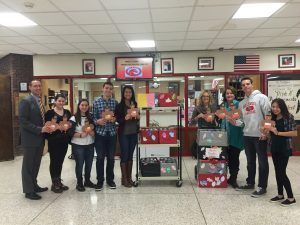 In the spirit of the approaching Holiday Season, specifically Thanksgiving, many clubs are helping others less fortunate than us in the community. The Spanish Club is one of these clubs. As they do every year, the Spanish Club officers, advisors, and members are working tirelessly to help all in the Spanish-speaking community of our local area.
In years past, the Spanish Club has held collection drives of many things such as school supplies, non-perishable food items, and much more. This year, the Spanish Club ran a can drive, collecting hundreds of canned food items to benefit the homeless shelter Pronto, located in Bay Shore.
The canned food drive was accompanied by a party, also hosted by the Spanish Club. The members spent the party eating food and snacks provided by the juniors. The other students brought in canned food items, which the members spent packaging into 10 boxes that they decorated to give to 10 families at Pronto. They included cans of beans, chick peas, soups, cranberries, and much more.
Spanish Club advisor, Señora Salatti, said, "Mrs. Muñoz and I are very proud of the generosity and hard work of all of our club members."
This past Tuesday, representatives from Pronto came to Hills West to pick up the boxes, which also included $20 gift cards to Stop and Shop for the recipients to buy a Turkey for Thanksgiving.
The Roundup would like to wish it's readers a Happy Thanksgiving and Happy Holidays! Be sure to help others as much as you can in this festive time!