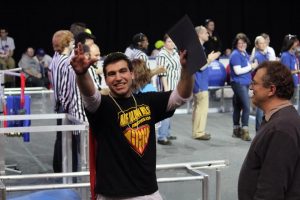 With the 2014 school year coming to an end, it's time for seniors to really begin looking into their future. Among the hundreds of talented students at HHH High School West, however, one particular student with a passion for robotics stands out.
Senior Justin Greene has a huge heart when it comes to his unique career path. He began building his dreams of becoming a manager of an engineering corporation in 2011 with his involvement in FIRST Robotics, an international robotics competition for high school students. After sparking his initial interest in robotics, this competition has become an annual event that Greene looks forward to every year. Not only has this event been a good way to meet students across Long Island who have similar occupational interests as Greene, but it has also provided him with a first hand experience in dealing with business and engineering, the two fields of study that he is interested in studying when he attends Ohio State University this coming Fall.
With so many family members, friends, and teammates supporting him through his journey, Greene feels determined to become the successful businessman in the engineering world that he aspires to be. When asked about his favorite part of field of studies, he responded "My favorite part of the career path I have chosen thus far is that I have already had such a wonderful, enriching FIRST Robotics high school experience, so I know to look forward to many years of the same fulfillment. I also look forward to helping shape a better future ahead." With an unwavering love for robotics, Justin Greene is nothing less than excited to continue pursuing his unique career path.